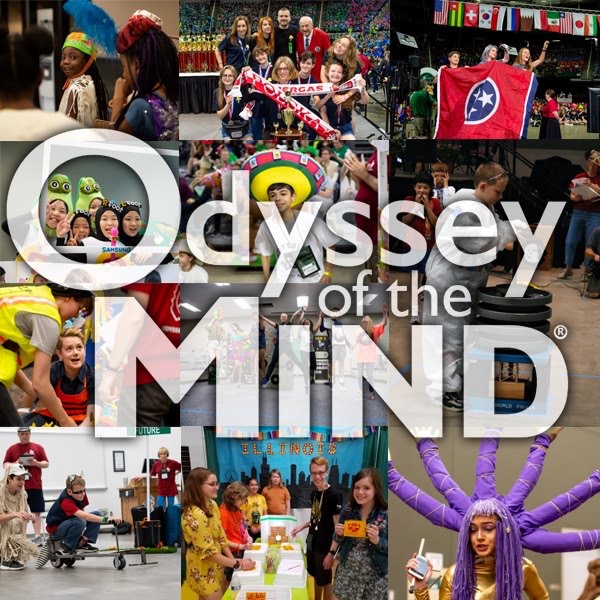 Odyssey of the Mind - May 2019 World Finals
Empowering Youth For A Positive Future!
Imagine…
young children solving complex problems where there is no one correct solution,
children competing with equally talented children from other parts in the world, on solving open-ended problems in creative solutions,
young children demonstrating their innovative thinking, energetic ideas, enthusiasm and terrific creativity,
children learning how to work respectfully and efficiently with others,
children discovering that the art of teamwork involves trusting that others on the team are doing their very best at any given time,
children experiencing collective efforts for the benefit of the team,
children learning that the solution of the team is often superior when individuals can make full use of each member's special abilities,
Switzerland being represented by young children at the Odyssey of the Mind World Finals, competing with teams from the USA, Ivory Coast, Canada, China, Germany, Hong Kong, India, Japan, Mexico, Poland, Qatar, Russia, Singapore, South Korea who each sent their best to compete for the Championship.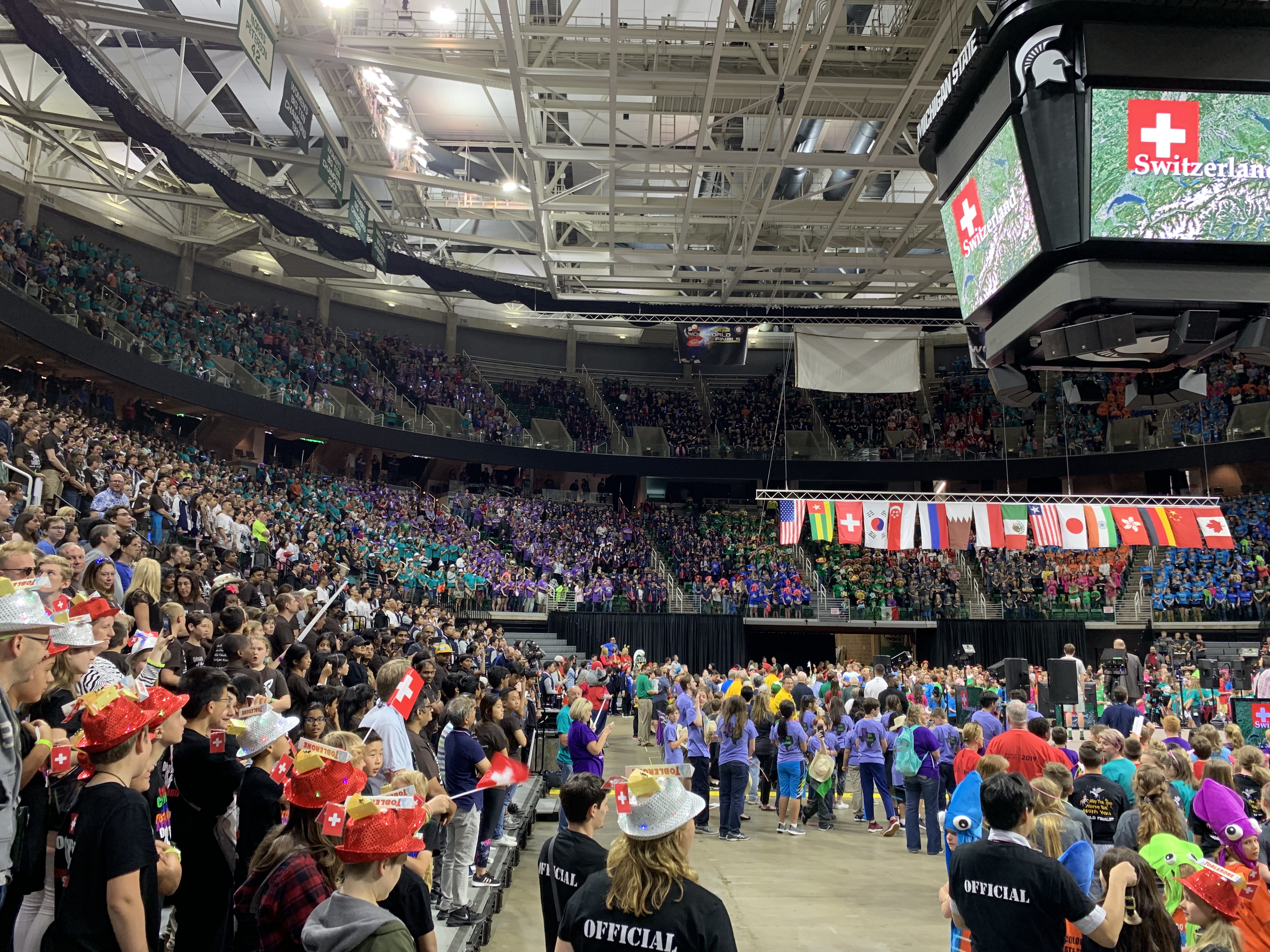 Odyssey of the Mind World Finals 2019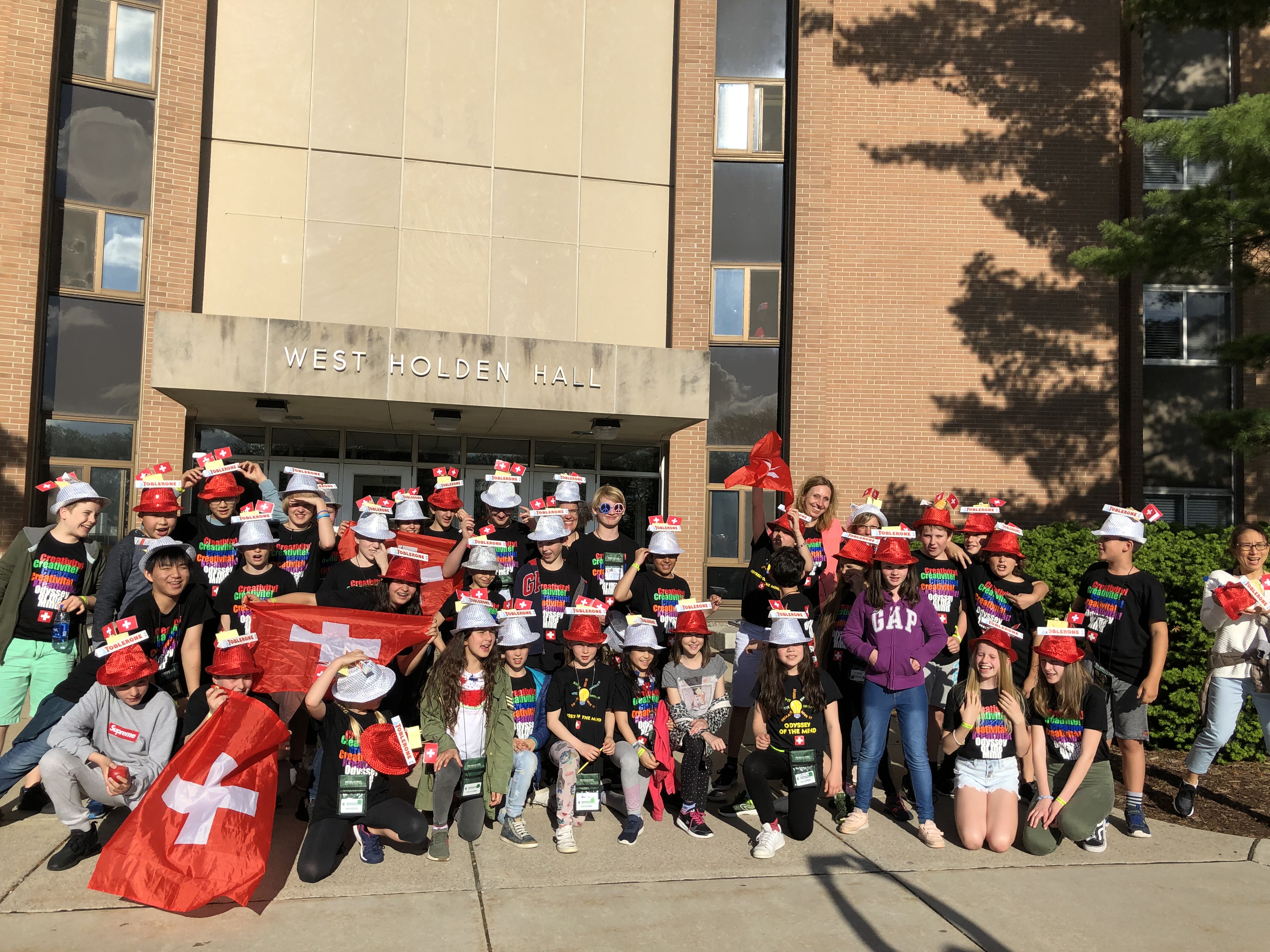 Six teams representing Switzerland celebrated world-wide creativity and camaraderie at its finest with some 15'000 people who traveled from many parts of the world to attend the Odyssey of the Mind World Finals, May 22 – 25, 2019 at Michigan State University, Michigan, USA.
The Odyssey of the Mind World Finals is the culmination of a year of hard work, brainstorming and creativity. This year, out of 899 teams from around the world, 19 were recognized as this year's champions, yet everyone who participated at World Finals was a winner.
Teams of students worked all year perfecting solutions to one of five long-term problems. Teams who competed at the World Finals are some of the best who showcased their creative solutions, wowing and dazzling judges. Teams warmly and enthusiastically cheered their competitors, wishing them well, recognizing and appreciating talent, skills, creativity in others.
Although every team who solves Odyssey of the Mind problems at World Finals are considered winners, those students who developed exceptional solutions and took creative risks were awarded first through third place, along with Ranatra Fusca Award winners. The Ranatra Fusca Award is the most prestigious award given at Odyssey, and it is not always given to the team with the most points, but to the team who took risks and thought outside of the box.
Our teams, five from the International School of Geneva and one team from Vessy, represented Switzerland. They are our champions, having competed with some of the best, matching wits and skills.
Problem #1 Division II OMER to the Rescue Again (11 - 13 year olds) 7thplace
Problem #3 Division I Classics… Leonardo's Workshop (10 - 11 year olds) 15thplace
Problem #3 Division I Classics… Leonardo's Workshop (8 - 9 year olds) 27thplace
Problem #4, Division II Structure Toss. (12 - 14 year olds) 23rd place
Problem #5, Division I Opposites Distract (10 - 11 year olds) 24th place
Problem #5, Division II Opposites Distract (8 - 12 year olds) 40th place
All teams in Divisions I, II and III are determined by the oldest age among the team members.
Ages 7 – 11 years - Division I
Ages 12 – 14 years - Division II
Ages 15 – 18 years - Division III
Ages 18 – 21 (University level) - Division IV
Odyssey of the Mind World Finals is an unforgettable experience. World Finals is a dizzying four-day think-a-thon that is a cross between showcasing technological creations, a masquerade party, and a performing arts festival. Teams innovate boldly, use both their hands and their minds, focus on unity and cooperation, while having fun.
What is Odyssey of the Mind ?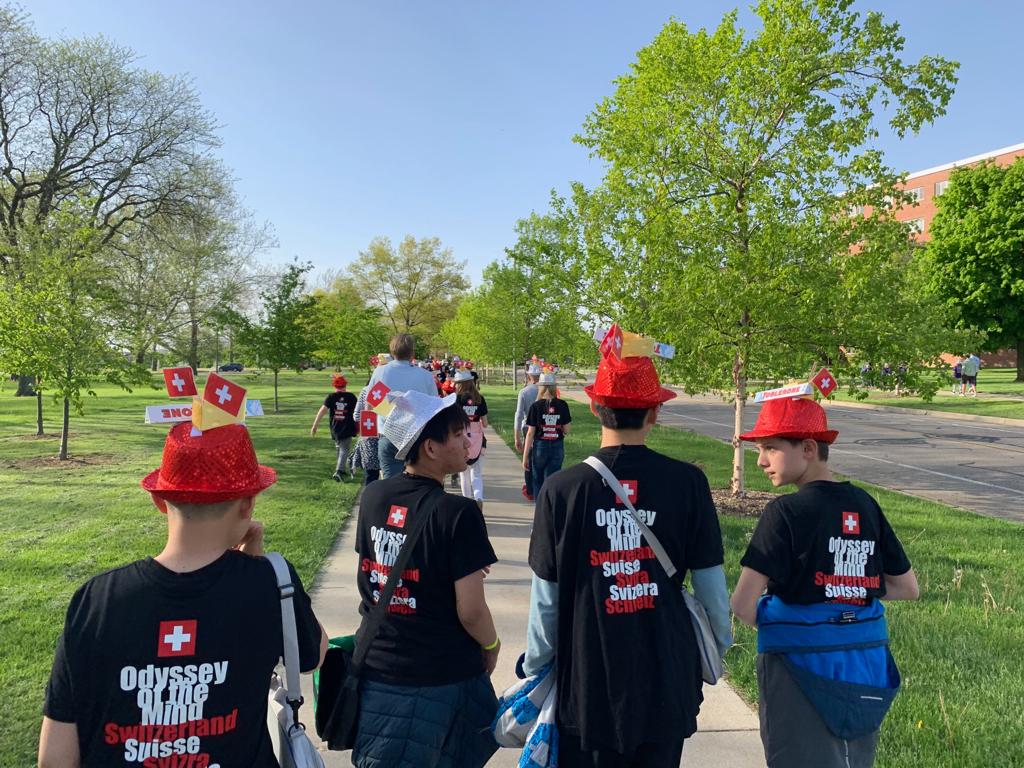 The Odyssey of the Mind program, now in its 40th year, offers opportunities for children's innate brilliance to shine through. It is an educational competition whose mission is to provide creative problem-solving opportunities for students from as young as 6 years of age through university level. It is a program that helps empower youth for a positive future, promoting creativity, the capability to solve problems, to work in teams, and the drive to persist in the face of challenges.
Odyssey of the Mind is a competition for teams, a wonderful way to learn responsibility, to learn to share responsibilities, to grow in self-confidence, and learn to put into practice the art of working efficiently and effectively within a team. Participants experience that the team is much stronger when individuals can make full use of their special abilities and really do it for the benefit of the team. The team supports the individual, gives him/her strength and confidence.
In September and October of each academic year, each team choses one of five competitive problems to solve under the guidance of an adult coach. Teams solve technical or artistic problems in creative ways within a required tight budget.
In March, the children, with a mix of apprehension and delight, present their very own solution to the complex chosen problem at a Regional Tournament. These children have ownership of their work, having created the solution as a team, given parameters that described the elements scored for creativity and quality of execution. They rightfully can be proud of their efforts.
Teams who come in first and second place at a Regional Tournament are eligible for matching their wits, their talents, and their skills for the championship at the Odyssey of the Mind World Finals held each year at end of May.
Can you imagine more teams in Switzerland benefitting from this program that addresses all of the STEAM standards?
Article written by Marcia Banks
Association Director, Odyssey of the Mind Switzerland
Coach